Recipes
Experiment! The scientist comes out in me when I am in the kitchen, putting together awesome ingredients and creating deliciously healthy food!
You will find some of my favourite recipes, new ones I've attempted, ingredients swaps that work (or don't work), and some base recipes that are good starters and can adapt well to changes!
Enjoy the adventure of finding ways to eat nutrient rich foods in tasty ways!
Homemade Nut & Seed Milk
Super easy and you can get creative with this!
As a general rule - do a 4:1 ratio water:nut/seed amounts. You can adjust this to the thickness/consistency you prefer.
Ensure you use raw nuts and seeds that have not been roasted or salted. You could run the risk of using items that already have their oils turned rancid.
You can use any combo of the follow seeds. Soak (filtered, spring, RO) for at least 2 hours (or more if you are using more nuts like almonds).
Sesame (most bio-available calcium you can get)
Pumpkin Seeds
Sunflower Seeds
Hemp Hearts (don't need to pre-soak these)
Flax Seeds
Almond
Cashew
Pistachio
Hazelnuts
Walnuts
Pecans
Brazil Nuts
Soak. Drain. Place nut and seed mixture into blender with water (filtered, spring, RO). Blend until smooth and frothy. Strain through a nut milk cloth or cheese cloth. I than put the pulp back into the blender with half a cup of the milk and a cup of new water. Blended again. Strained again.
You can keep the pulp for baking - dry it out on a tray...use within a few days.
To the milk: plenty of options to do, experiment!
You can add any of the following to your preference: re-blend and store in a glass jar with a non-metal lid for up to 3 days.
Raw Honey
Maple Syrup
Cinnamon
Vanilla
Dates (for sweetness) - you may want to restrain
Protein Powder
Raw Cacao
Anything else you want! Enjoy!!
Spinach, Kiwi and Mango
Mix to your desired proportions:
Spinach, Mango, Kiwi, Celery, Vegan Protein Powder, Greens Powder, Nut Milk. Blend! Enjoy!
Turmeric Latte
Recipe: 2 cups almond milk, 1 tbsp honey or maple syrup, 1 stick cinnamon, 1 tbsp coconut oil, 2 tsp turmeric, pinch of ginger, Pinch black pepper. Combine all ingredients in a pot, bring to a boil, simmer for 10 mins. Yum!
Best Muffin Base Recipe
I make different batches often (different flours, different veg/fruit, different additions (walnuts, chocolate chips, etc) but each time they turn out awesome:
1¾ cups whole wheat flour (or etc)
1½ teaspoons baking powder
1 teaspoon ground cinnamon
½ teaspoon baking soda
½ teaspoon salt
½ teaspoon ground ginger
¼ teaspoon ground nutmeg
2 cups peeled and grated carrots (or etc)
½ cup roughly chopped walnuts (or etc)
½ cup raisins (or etc)
⅓ cup melted coconut oil
½ cup maple syrup
2 eggs, preferably at room temperature
1 cup plain Greek yogurt
1 teaspoon vanilla extract
1 tablespoon coconut sugar or raw sugar for sprinkling on top
Banana Nut Butter Chocolate Chip Muffins
2c Flour (I used Dark Rye and Buckwheat)
1/3c Coconut Sugar
1Tbsp Baking Powder
1/2tsp Salt
1 Egg
3/4c Mashed Banana
2/3c Nut Butter
2/3c Nut Milk
1Tbsp Vanilla
2Tbsp Coconut Oil
1/2c Chocolate Chips
Combine dry ingredients and wet ingredients in 2 separate bowls, then combine together. Bake 375 for 15-18 mins. ENJOY!

Beetroot Dark Chocolate Muffins
2 medium beets (1/2 cup pureed)
1 cup unsweetened vanilla almond milk
1 tsp white or apple cider vinegar
3/4 cup coconut sugar
1/4 cup melted coconut oil
2 tsp pure vanilla extract
1 cup + 1 heaping Tbsp flour of choice
1/2 cup melted dark chocolate (I used a some of the beet juice to make it more running when melting in a double boiler)
1 tsp baking soda
1/2 tsp baking powder
pinch salt

Preheat oven to 375°F,
Peel and chop into cubes the beets, boil them for about 10-15 mins. Blend/process until pureed.
Whisk together the almond milk and vinegar in a large bowl, and set aside for a few minutes to curdle. Add the sugar, oil, vanilla extract, 1/2 cup beets and melted chocolate and beat until foamy.
Add the flour, baking soda, baking powder, and salt into a bowl, and mix. Beat until no large lumps remain.
Pour batter into muffin tins, filling 3/4 of the way full.
Bake 22 to 25 minutes, or until a toothpick inserted into the center comes out clean.
Enjoy!
Fully Loaded Cookies
Great for a quick breakfast/snack/ re-load of energy before exercising...whatever you wish!
Mix dry in 1 bowl, mix wet in another - than combine.
1/4 c coconut oil
1/4 c maple syrup
2 c oats
2/3 c cranberries/raisins/chocolate chips (x2)
2/3 c pumpkin seeds, sunflower seeds, sesame seeds, hemp hearts
1/4 c ground flax seeds
1 tsp pumpkin spice/cinnamon/nutmeg (your choice)
1/4 c pumpkin puree
1/4 c applesauce
2 eggs (beaten)
Bake 15 mins at 350 degrees.
Banana Chocolate Muffins
In a blender, combine:
1/3 cup coconut oil
1/4 cup maple syrup
2 eggs
1 1/2 cup banana
1/4 milk of choice
Pour mixture into a large bowl and add:
1 tsp baking soda
1 tsp vanilla
1 tsp cinnamon
1/2 tsp salt
1 3/4 cup flour of choice
1/3 cup oats
2/3 cup chocolate chips
Mix just until combined. Pour into muffin tins. Bake 23-25 mins at 325 degrees.
Pumpkin Chai Loaf
2 c flour of choice
2 tsp baking powder
1 tsp baking soda
1/4 tsp salt
1/4 c coconut oil
1/2 c coconut sugar
2 eggs
1 c pureed pumpkin
1 c chai concentrate
3/4 c raw pumpkin seeds
Mix the first 4 ingredients into a large bowl and set aside. Mix the oil and sugar together, then add the eggs. Combine the puree, chai and seeds together. Then combine all ingredients into a large bowl.
Spread into loaf pan. Bake 350 for approx. 1 hour. Enjoy!
Of course, you could add dark chocolate chips if you wanted an extra sweetness. :) My favourite addition!
Sweet Potato Apple Muffins
1 Large Sweet Potatoe (baked, not boiled)
3/4 cup milk of choice
1/2 cup coconut oil
3/4 cup coconut sugar
1 egg
2 cups flour of choice
1 tbsp baking powder
2 tsp baking soda
1/2 tsp pink salt
1/4 tsp ground cloves or nutmeg
1/2 tsp ground ginger and cinnamon
2 Large Apples chopped
1/2 cup chocolate chips or nuts (optional, whatever you'd like)
1. Blend together sweet potato, milk, coconut oil, sugar, and egg.
2. In separate bowl, combine flour, baking powder, baking soda, salt, spices and chocolate chips/nuts.
3. Combine wet and dry ingredients. Add in apples.
4. Bake 375 degree, 20-30 mins.
Banana Beet Avocado Loaf
In a medium bowl, combine:
1 3/4 cup flour of choice
3 heaping tsp Raw Cacao Powder
2 tbsp ground flax seeds
1/4 cup coconut sugar
1 tsp cinnamon
1 tsp baking power
1 tsp baking soda
1/2 tsp salt
In a blender: combine:
3 bananas
1 avocado
1/2 pureed beets
1/4 cup maple syrup
1/4 cup milk alternative
1 tsp vanilla
1 tbsp coconut oil
Combine both bowls together. Spray a loaf pan. Pour batter into pan. Sprinkle with dark chocolate chips. Bake at 350 for roughly 30 minutes or until a toothpick comes out clean. Let it cool in the pa. Enjoy!
Energy Bites
I used my food processor, however, a mixing bowl is just as good!
1 cup old-fashioned oats
1/2 cups coconut flakes
1/2 cups ground flaxseed
1 tablespoon chia seeds
1/2 cups nut butter
1/3 cups honey or maple syrup
1/4 cups chocolate chips
1 tablespoon vanilla extract
Blend together and form bites! Enjoy!
Cranberry Almond Bites
1/2 c (x2) Cashews/Almonds/Walnuts/Nut of choice
1/2 c cranberries
1/2 c dates
1/2 tsp vanilla
1/4 tsp almond extract (optional)
Place all ingredients into a food processor and mix well. Once mixed, form into balls!
You can add any type of seed you wish as part of the nut quantities.
Pumpkin Pie Bites
1/4 c dark chocolate
1/8 tsp ginger
10 dates (approx)
1/2 c pumpkin puree
1/2 tsp cinnamon
1/2 c coconut flour
Sesame Seeds (set aside in a dish for coating).
Place all ingredients into a food processor and mix well. Once mixed, form into balls. Roll each ball in the sesame seeds. Enjoy!
Crackers & Tomatoes - with a Twist
So delicious!
Whole grain rye cracker, cream cheese, avocado, tomato (or homemade bruschetta leftovers!) little pink salt and pepper...enjoy!
Cucumber Cheese & Crackers
Such an awesome snack!
Crispy Rye Crackers
Cream Cheese/ Goat Cheese
Alfalfa Sprouts
Sliced Cucumer
Salt, Pepper, Nutritional Yeast
Enjoy!

Oatmeal Plus!
I love a good oatmeal dish! You can really get creative with your oats. Cold, soaked overnight...warm, cooked with nut milk...and all the additions you can think of.
'Plus' means I use not just my oatmeal flakes, but also include my seeds mixture for added protein, essential oils, minerals, fiber, and deliciousness (sunflower, pumpkin, sesame, flax, chia and hemp).
Add cinnamon for blood sugar balancing and flavour.
Add whatever fruit you have available. Nuts (soaked), raisins, goji berries, whatever!
Eggs Benedict on Pumpernickel Toast
Using Pumpernickel made this dish taste awesome. It is sturdy and held up against the liquid hollandaise sauce, and gave it a peppery taste! Try it and see for yourself, its so good!
Hollandaise Sauce:
4 egg yolks
1 tbsp freshly squeezed lemon juice
1/2 c unsalted butter, melted
Pinch cayenne
Pinch salt
Gentle mix together these in a double boiler. Once combined, remove from heat until ready to drizzle on top. Be careful not to cook the sauce.
Toast pumpernickel bread, butter if you feel like it. I used coconut oil.
Layer with a quickly sauteed slice of ham/salami/bacon.
Spinach.
A poached egg.
Gently reheat the hollandaise sauce, and top the poached egg.
Garnish with a sprinkle of paprika.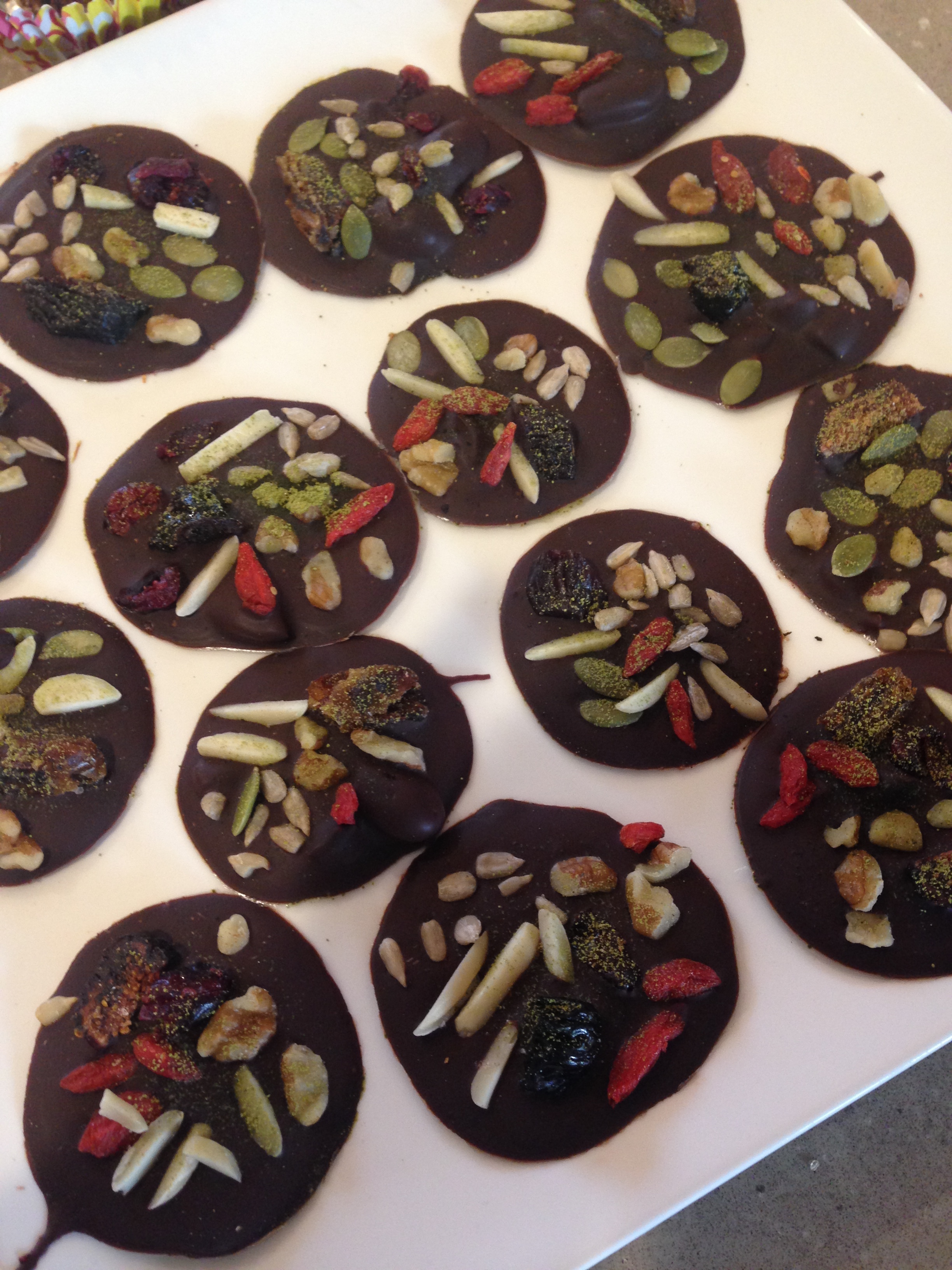 Dark Chocolate Bites
These are so simple.
Melt dark chocolate in a double boiler (pot of water, bowl on top). Have your desired toppings set out so you can readily grab and top.
Drop spoonfuls of chocolate onto parchment paper or tin foil, top with whatever you'd like!
I decided on various nuts (almond, walnut), seeds (pumpkin, sunflower), dates, prunes, mission figs, goji berries and cranberries!
I then sprinkled pumpkin matcha on top!
Pomegrante Chocolate Chip Scones
3 tbsp flax seed (ground) mixed with 1/2 c nut milk - set aside
3 c flour (I used Oat and Chickpea)
1/3 c coconut sugar
3/4 tsp baking soda
1/4 tsp salt
1/4 tsp cinnamon
1/2 c raisins (chopped) or chocolate chips
1 c Pomegranate Seeds
1 tsp vanilla
1/4 c lemon juice (1 whole lemon)
1/4 c walnut oil
Combine dry ingredients into 1 bowl. Add the raisins and seeds.
Add the vanilla, lemon juice and oil to the flax seed mixture.
Combine into one bowl. Shape into scones on baking sheet. Bake 350 for 18-20 minutes.
Enjoy!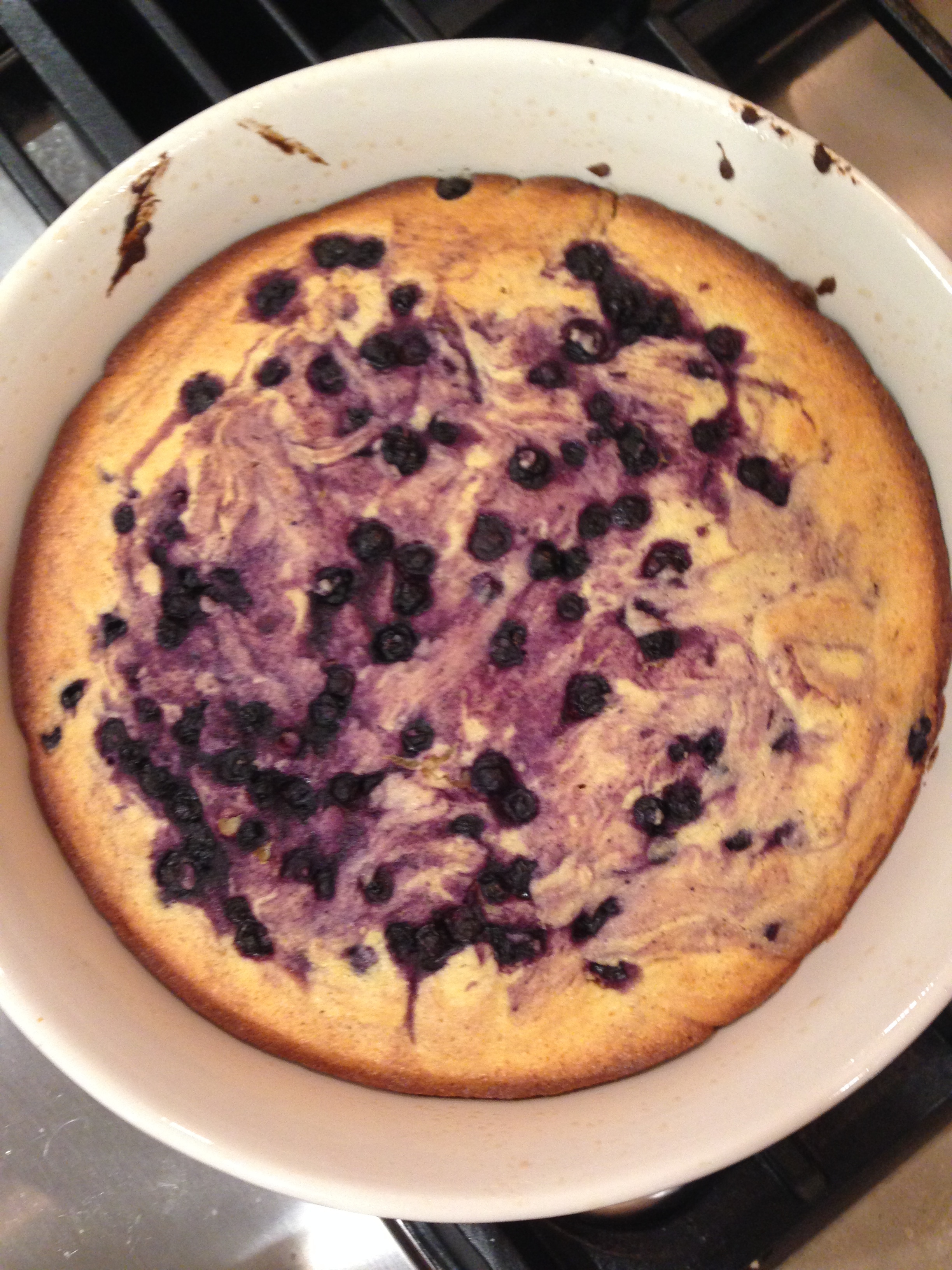 Lemon & Blueberry Cornmeal Cake
Recipe thanks to: "Baking' - Love Food.
1 stick salted butter, softened
3/4 c superfine sugar (I milled organic cane sugar to a powder)
Finely grated rind of 1 lemon, plus 2-4 tbsp juice (I love the lemon taste, so I used roughly 4 tbsp)
3 eggs, beaten
3/4 c cornmeal
1 1/4 c almond meal (I used oat flour)
1 tsp baking powder
1/4 c greek yogurt
3/4 c fresh or frozen blueberries
Powdered sugar for topping
Preheat the oven - 350 - Grease a spring-form pan or round oven-safe dish.
Put the butter, sugar, lemon rind and juice into a large bowl and beat together. Gradually beat in 1 egg at a time. Stir in cornmeal, flour, baking powder and yogurt.
Fold in most of the blueberries. Spoon batter into pan. Stop with remaining blueberries.
Bake 40-45 mins. Let cook in the pan 20 mins. Dust with powdered sugar. Enjoy!
Gnocchi Chicken Soup
3 tbsp butter/coconut oil
1 tbsp olive oil
1 c onion, diced
½ c celery diced
2 garlic cloves, minced
¼ c flour
2 c cream or milk of choice
1 (14 ounce can chicken broth) for a thinner soup use 2
1 tbsp fresh thyme
1 c carrots (coined or shredded)
1 c diced cooked chicken breast
1 16 ounce package gnocchi
salt and pepper to taste
In a large pot add butter and olive oil. Over medium high heat sauté onion, celery and garlic until tender. Add the flour slowly. Cook for another minute.
Slowly add the cream/milk and chicken broth. Stir until it starts to thicken.
Add the thyme, carrots, chicken and gnocchi.
Simmer for 5 minutes or until gnocchi is cooked (floats when cooked)
Salt and pepper to taste and serve immediately.
We also served it with pumpernickel grilled cheese! YUM!
Chicken Tomato Soup
1 Carrot, 2 Celery, 1/2 Onion, 2-3 Garlic Cloves, Spices (whatever you prefer), Handful of Kale, Shredded Chicken, 2-4 cups of homemade broth, salt and pepper to taste, 1 cup canned diced tomatoes.
Noodles of choice.
Place ingredients (except noodles) into a soup pot and bring to a boil. Turn heat down and simmer for 40 mins. In the meantime, cook noodles (timing for when soup will be done). Do not add to soup pot, add amount of noodles you wish to your soup bowl. This keeps the noddles from going too mushy.
Enjoy!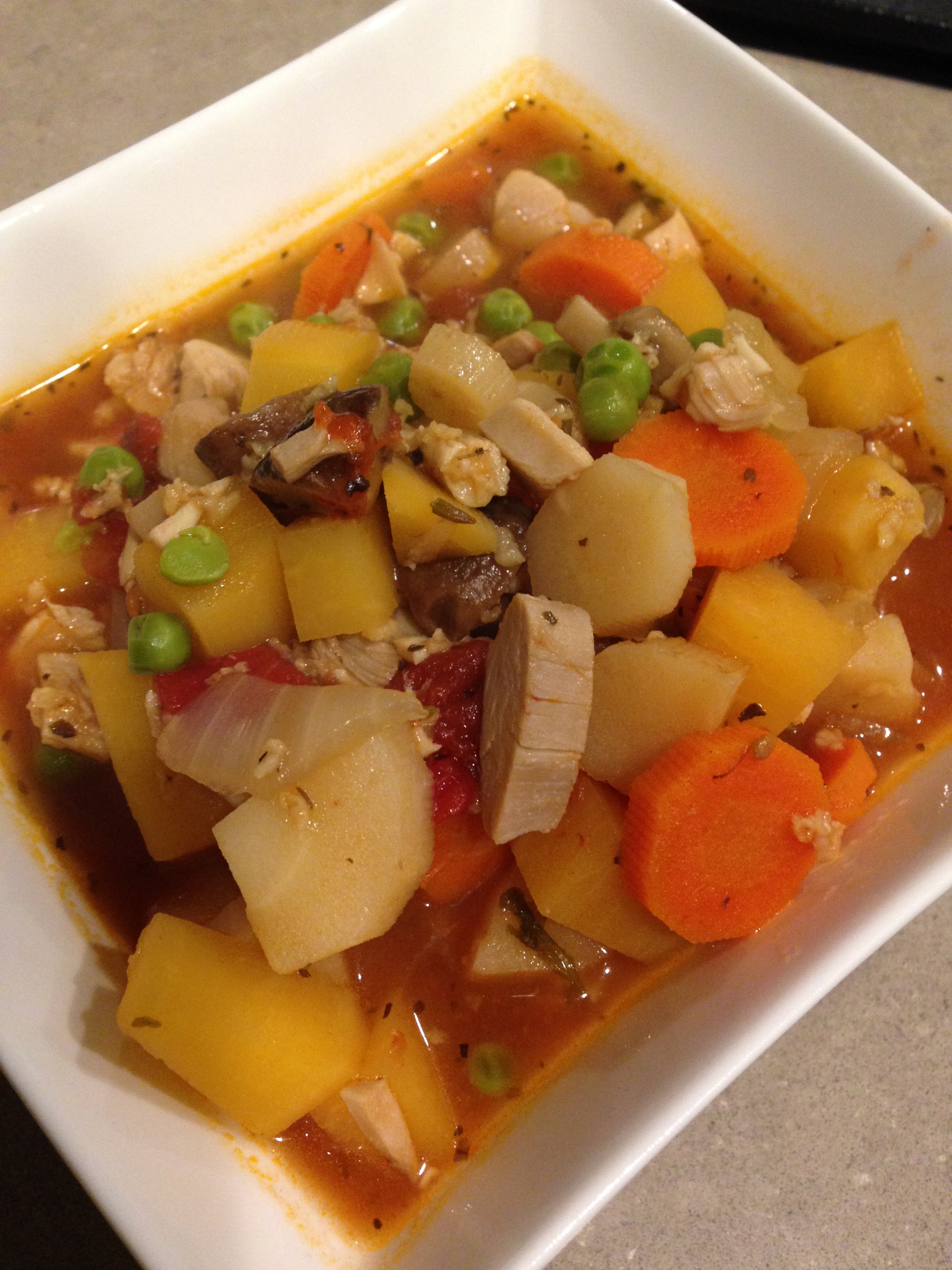 Turkey & Veggie Stew
2 tbsp oil
1 onion
1/2 c millet (or 2/3 c barley)
2-3 garlic cloves
2 carrots
2 parsnips
1-1/2 c rutabaga
2-3 c homemade broth (store bought is fine if that's what you have)
1 c diced tomatoes
1/4 c fresh parsley
1 tsp thyme
1 tsp Worcestershire
1/2 tsp basil (dried)
Salt & Pepper to taste
2 c turkey
1 c green peas
In a large soup pot, start with the oil and onions (~3 mins). Add the millet/barley (~4 mins). Add the rest of the ingredients, except turkey and peas. Bring to a boil. Reduce heat, simmer 40 mins. Add turkey and peas. Simmer 10 mins. Serve and enjoy!
Mushroom Leek Soup
If you choose mushrooms like Shiitake, Oyster, Portobello, and the more 'meaty' types - you will also be serving up a good source of protein!
2 Leek stalks, chopped
1 tbsp cold-pressed olive oil (could use coconut oil)
2-4 garlic cloves (depending on your preference for garlic)
1 Pkg Shiitake Mushrooms, cleaned and chopped
1 Pkg Baby Portobello Mushrooms, cleaned and chopped
- You can choose your desired mushroom combo!
2 tbsp Thyme
4 cups Broth (I used homemade veg broth)
Salt & Pepper for seasoning
1/4 c Parsley, fresh, chopped
1/2 lemon zested
1/2 lemon juiced
Fresh Parm
1. Heat the oil in a large soup pot. Saute the garlic and leeks until soften. Add the mushrooms and saute until browned. Add the broth and thyme. Bring to a boil. Turn down the heat, simmer for roughly 20-30 mins.
2. Add lemon zest, juice, and parsley. Stir soup.
3. Portion soup into bowls, top with a sprinkle of Parmesan.
Have fun with this soup! Alternatives:
- Add curry or turmeric for a powerful anti-inflammatory boost.
- Blend 3/4 of the soup to make a creamy base.
Sausage Kale Soup
4 Garlic cloves - chopped.
3 Sausages (uncooked).
- 2 tbsp coconut oil. Heat in soup pan. Add garlic (about 3-5 minutes). Add sausages - cook until cooked through. Remove sausages, cut into bites. Set aside. Dont rinse the pot.
In same pot, saute for 5 minutes with a pinch of salt:
1 cup chopped onion
1 cup celery including leaves
1/2 cup carrots, chopped
Add 2/3 cup rice (uncooked).
Add 1 box of beef broth, plus 2 cups water.
Add 2 Bay leaves. 1 tsp maybe of Italian. Salt and Pepper. A pile of shredded kale (maybe 2-3 cups)
Boil.
Simmer 40 minutes. Rice should be cooked through. Remove the Bay Leaves.
Spicy Chicken Pasta
This was easy to make and you can use various meat and noodle types you wish. Shrimp, Chicken, Fish; Whole wheat noodles, egg noodles, soba, etc!
Sauce: Mix together these ingredients and set aside.
1/4 c mayo
1/4 c sour cream
1/2 c Sweet Chili Sauce (for chicken - but tastes great with shrimp too)
2-3 garlic cloves chopped
1/2 tbsp onion flakes
1/4 tsp crushed red pepper flakes OR chili powder
2-3 tbsp lime or lemon juice
Cook noodles according to their process. Set aside.
Meat: (1 1/2 lb medium shrimp/ 1 lb chicken)
1-2 tbsp coconut oil
3-4 garlic cloves chopped
3 tsp paprika
1 tbsp parsley
Black Pepper
Additions: I added spinach for a veggie. You can add:
Cauliflower, Broccoli, Spinach, Zucchini, etc
Saute the meat with the listed ingredients. Add the vegetable of choice. Once cooked (still a little crunch in the veg) add the sauce to heat up. Just before serving, stir in the noodles. Plate. Enjoy!
Lentil Stew (Crock pot or Stove top)
This is a great base for any stew. Change up the ingredients, add others, experiment with spices! Enjoy.
2 garlic cloves, crushed
1 onion, finely diced
3 carrots, diced
2 cups green lentils, rinsed
1 cup red lentils, rinsed, set aside until 1 hour until finished cooking.
6 cups vegetable broth
2 bay leaves
1/2 tsp salt
1/2 tsp ground black pepper
1/2 tsp chili powder
1/2 tsp basil and parsley
2 tablespoons olive oil (for stove top method)
Fresh cilantro, for garnish
I also added: broccoli florets, chopped mushroom and zucchini to this version.
Crock Pot: Combine all ingredients. Stir. Cook on Low for 3-4 hours.
Stove Top: Preheat a large pot on medium heat with olive oil. Add garlic and onions and saute for 3-5 minutes. Add lentils and saute for another 3-5 minutes. Add the rest of the ingredients, except red lentils. Bring to a boil, and simmer covered for 30 to 45 minutes over low heat, until lentil are cooked and soft, adding little water if necessary. Add red lentils when 10 minutes remain. Lentils should have absorbed most of the water. Remove bay leaves, adjust seasoning and serve warm garnished with cilantro.
Vegetarian Chili
¼-1/2 cup red lentils
1 cup green lentils
1 can black beans, rinsed
1 can crushed tomatoes
2-3 stalks celery, chopped
1 cup broccoli
1 cup cauliflower
2 carrots, chopped
1 cup fresh cherry tomatoes
1 tsp cumin
2 tsp chili powder
1 tsp garlic powder
Salt & pepper
1 tsp Parsley, Oregano, Thyme, Italian
2-3 cups broth
Add them all into the crockpot for 6 hours on low.